The 2nd IERE Webinar: Sustainable Emerging Technologies 2020
The 2nd IERE Webinar—Sustainable Emerging Technologies 2020
November 17, 2020
Lecture by ENGIE (France)
Zoom webinar
The 2nd IERE Webinar—Sustainable Emerging Technologies 2020
November 17, 202

Introduction
The carbon neutral energy transition remains challenging, but we are convinced that technological advances will be part of the solution. In this webinar, we present topical areas that we think will offer non-trivial benefits and impacts on this transition.
Program
Opening Session
Lecture—Sustainable Emerging Technologies 2020
Questions & Answers
Closing
| | |
| --- | --- |
| Speakers, Moderator | Lecture by Dr. Mertens |
| Lecture by Dr. Le Cadre Loret | |
Q&A SessionThe day was filled with many questions and a lively Q&A session.
Watch the Video on the web for the detailed discussions!
Typical Discussions in the Q&A Session
Regulatory question: is there any specific lpx;evel of CO2 per amount of product (kWh electricity or kg of protein) produced for the technologies considered to call them sustainable?
Why did you select 4 technologies among 10 emerging technologies?
The long-term target cost for DAC (Direct Air Capture) is usually considered about 100 USD per ton of CO2. Is that realistic?
What's the raw basic material is mostly used for developing the good catalyst? Is it abundant or rare earth materials?
In power to proteins concept, why did you focus on protein production? (In Japan, many studies about algae cultivation for biofuel production, e.g. jet-fuel are carried out.)
You picked up various wastes, as examples of liquid organic wastes. Which waste is easiest to gasify and utilize? And Which one is the hardest to gasify or utilize?

Feedback
Satisfaction Survey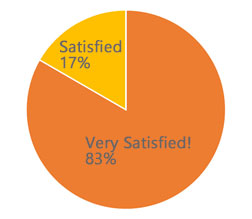 Neither Satisfied nor Dissatisfied: 0%
Dissatisfied: 0%
Very Dissatisfied: 0%
Feedback from Participants

The topic and presentation were very thought provoking and informative. Very forward thinking about sustainability requirements and approaches.(Ameriaca)
Very useful. Estimated cost for each solution is also very for future development.

Interesting, a good platform to share current & latest sustainable technology.(Asia)
Some new and interesting research findings that created a lot of interest. Content of the presentations were excellent and the discussions that followed highlighted the interest in the topic. Well done and I look forward to more such presentations. (Africa)